In Control,
Without Hassles
Explore Stunning Business Travel Features
Seamlessly connect with multiple travel agents, compare various pricing options, select the best services, track your employee travel trends and intelligently control business travel expenses like never before. Engineered to perfection, BizTripz is as easy-to-use and intelligent software that organizes business trips by taking the hassles out of trip requisitions, traveler management and reporting using the best and most secure in technology.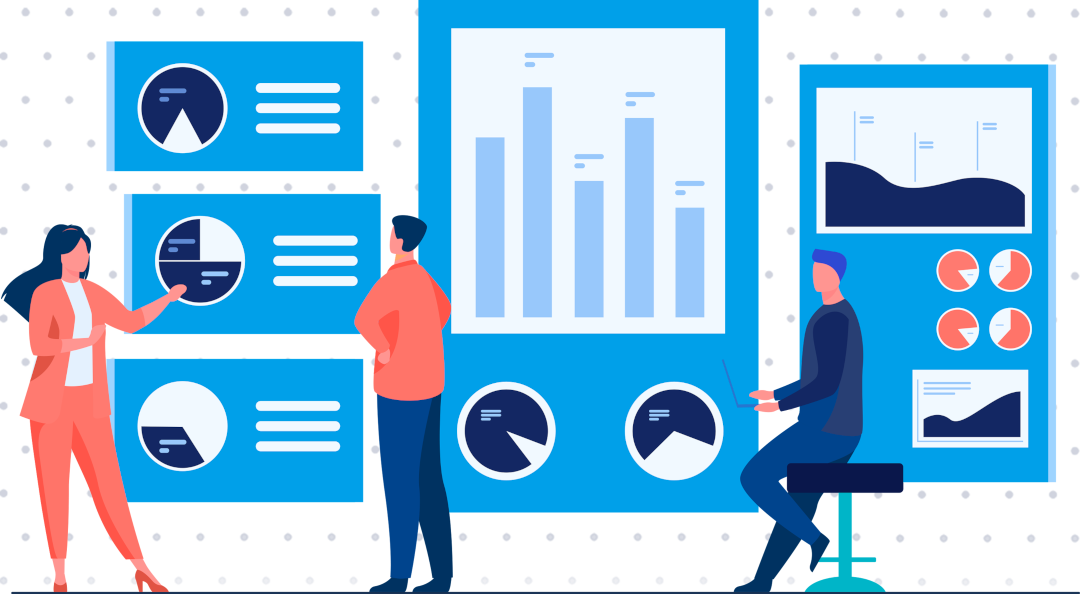 Smart and Easy to Use Platform
BizTripz is a cloud-based platform tool integrated with cutting-edge technologies to offer corporate and travel agents an outstanding consolidation of their travel procurement. BizTripz connects companies with multiple travel agencies to book and manage the entire travel process through any device and from anywhere!
Organized Trip Requests
We bring transparency to every transaction made through BizTripz. We assist companies and agents to execute well-organized trip requests through their contracted agents and deal everything from selecting cost-effective travel options to booking groups and arranging last minute services.
Email Alerts at Every Step
We keep everyone, including travel coordinators and approving managers, informed about the trip's development and sudden changes, if any. To exercise clarity in communication regarding quotations received, approvals, changes, etc., BizTripz sends e-mail alerts to the concerned people from the corporates and the agents.
Connect with Multiple Providers
Businesses can onboard their contracted agents when they register to avail travel services. They may change service providers or add new ones alongside the existing ones anytime. Compare different price options offered by different agents from a single space. More options to choose from means more opportunities for savings.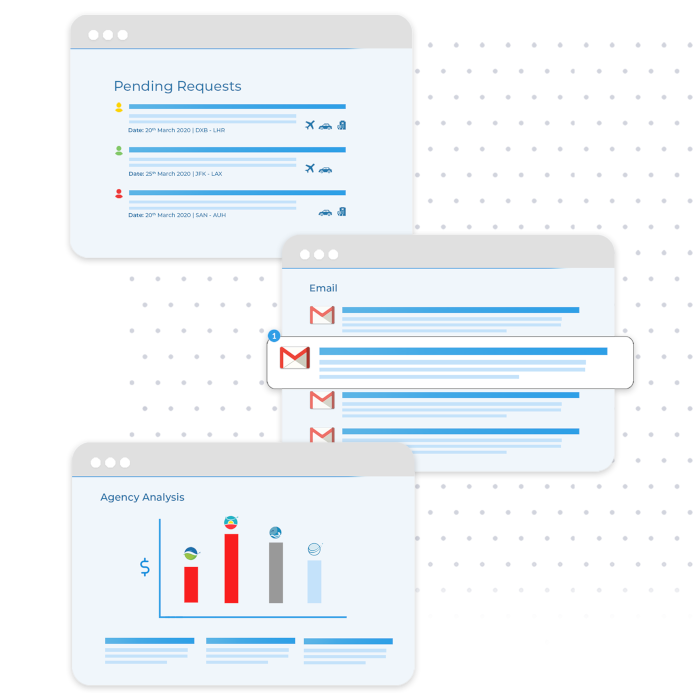 Automated Travel Requisition
To ensure smooth Travel request workflows and approvals, we automate everything from pre-travel requisitions to in-travel expenses (air travel, travel advances, insurance expenses, etc.) and total trip costs.
User-Friendly Platform
As a comprehensive solution designed to manage your business travel programs, BizTripz offers user-friendly features like automated pre-travel authorizations that help corporate and travel agents to eliminate tedious paper works, trigger faster approvals from higher management and reduce the turnaround time.
Cost-Effective Solution
BizTrip helps companies to ensure proper budget control. The top-level authorities can instantly authorize the expenses incurred using this software tool. Our travel management solution assists HR managers and other senior management to implement complex policies and get the complete visibility of all travel expenses incurred.
Customized Trip Approval Flows
No matter the complexity of your travel procurement, we offer the custom trip approval flows that are in line with your travel policies. This allows management to simply take control of traveler behaviors and ensure better compliance by grouping travelers separately. Yes, we make the work of managers and travel desk easy by automating the approval workflows.
Multilevel Trip Approvals
A single platform to address unique travel procurements of each travel group is designed by BizTrip. Such multilevel trip approvals are customizable based on your requirements. Fastest approval by officials under various levels of an organization is the main highlight of this software.
Pre Trip Approvals
Control your travel expenses through Pre-trip request approvals initiated through BizTripz. This optional control help decision makers to check proposed travel plans and authorize it prior to sending it out to the agents. Discover the joy of cutting clutter by filtering of trip requests done though our pre-trip approval process.
Consolidated & Real-time Reports
With real-time data, BizTripz gives deep insights into business travel spend to reduce costs and enforce compliance through consolidated & enhanced reports. Real-time reports empower you to know more about travel management price trends, travel expenses, traveller behavior, etc.
Bespoke & Customized Reports
To cover specific areas of your business travels, we offer custom reporting at your convenience. We offer an all-inclusive solution that helps you manage your travel programme and expenditure based on your organizational goals and objectives.
Cost Reduction
Make better business decisions, analyze the travel trends and behavior of employees and accurate and deep understanding of travel expenses with the help of consolidated & real-time reports. To ensure compliance and safety for your future trips,
Live Traveller Tracking
Powered by latest technologies, BizTripz assists enterprises and the concerned travel agencies to live track the travelers and monitor the travel trends for assuring better safety and security, while improving the travel program. To ensure CSR and reduce the likelihood of risks are the added features of Live Tracking.
Track Unused Tickets
Track tickets even after their issuance. For unused tickets, BizTripz enables authorities to take appropriate actions like adding them to unaccounted expenses, rather than making them expired.
Ensure safety & compliance
No matter where your employees are in the world, BizTripz leverages the best of digital technologies to track and monitor them to assure safety & compliance. Keep travelers safe in case of emergencies by sending travel alerts and notifications using BizTripz.
An ultimate travel management
Designed to go well with your company's travel policies, BizTripz helps medium-scale and large scale enterprises seamlessly manage their business travel programs. We ensure that you get a complete control over your business travel procurement at affordable rates!
Savings
An unplanned system can create a lot of unexpected and unnecessary corporate expenses. BizTripz helps to minimize overages by creating a systematic and clear work flow and offers greater budget visibility to increase savings.
Auto-scan expense receipts
An integrated solution for managing all travel expenses by scanning receipts and make employees qualify for quick reimbursement is the main highlight of BizTripz. On-time notification about reimbursements is an added advantage of BizTripz.
Maintaining traveller profiles
Make travelling a wonderful experience by managing all the required documents using a single platform, BizTripz. Apart from travel documents, memberships, visa info, loyalty cards and other traveler preferences are also managed by BizTripz for easing the hassles of national and international trips.
Additional roles for users
Each user has specific roles assigned to them for ensuring smooth travelling experience for travellers. Through BizTripz, you can assign roles for users to make approvals for each trip once the travel requests are placed.
Expiry reminder
Each profile is associated with individual documents that are crucial for travel purposes. BizTripz acts as a Document Expiration Reminder tool to alert uses about document renewals, important due dates, etc. Advanced Alerts on pending payments and other renewal reminders are displayed on your dashboard.
For Corporates
Powered by cloud technology, BizTripz simplifies the travel procurement system to offer a wide assortment of services ranging from instant travel approvals to real-time report generation and live tracking of employee travel progress.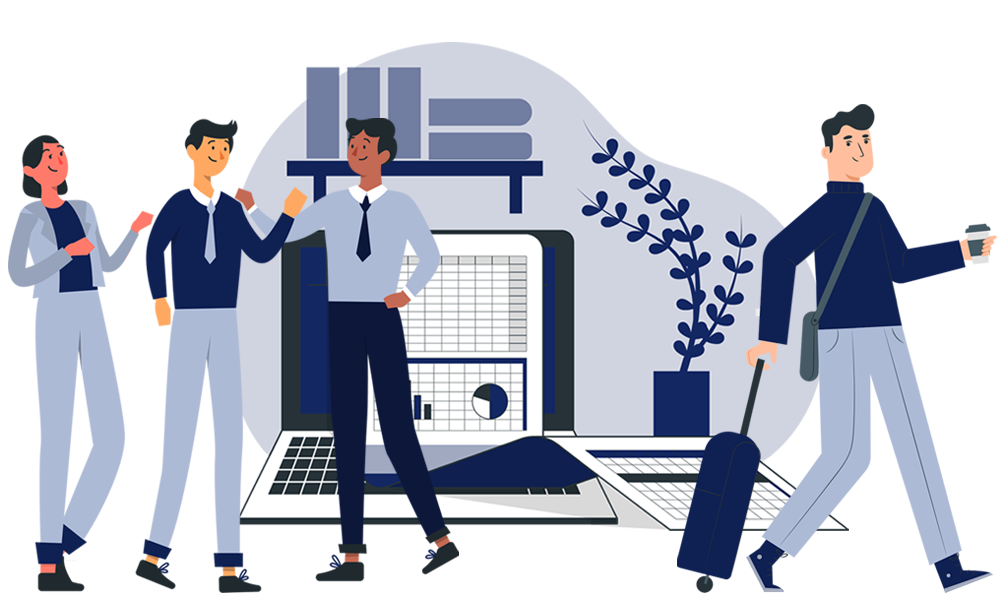 Solutions By Role
BizTripz is designed to support various roles and their functionalities in a travel procurement system. As a finance or administration manager or even the travel agency officials, each user is associated with different roles of a user travel program.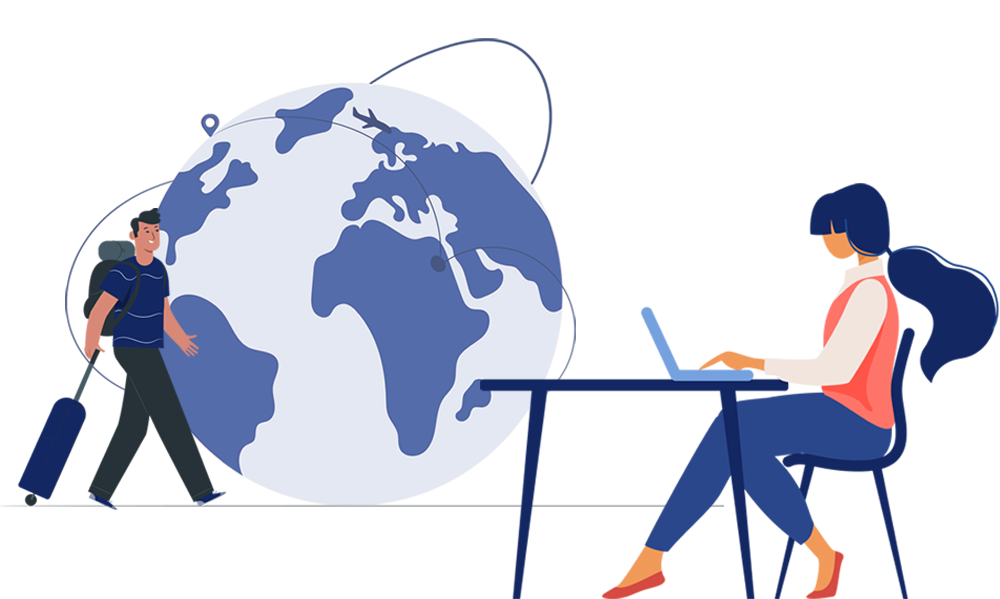 For Travel Agents
Connect with fortune companies to offer state-of-the-art employee travel programs through smart and intelligent business travel solutions that features quick approvals & policies, live tracking, expense management and many more!
Why Not See It For Yourself?